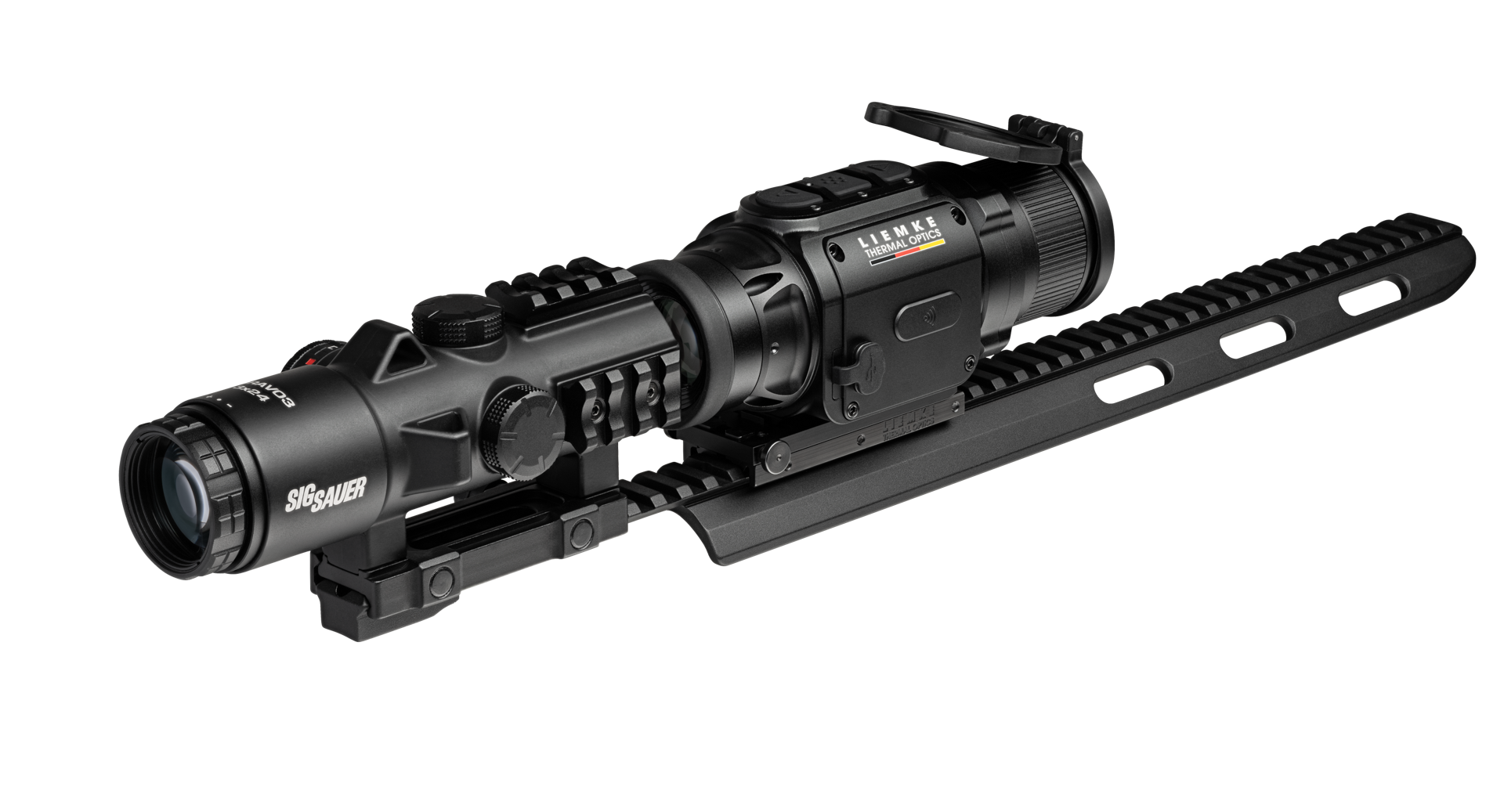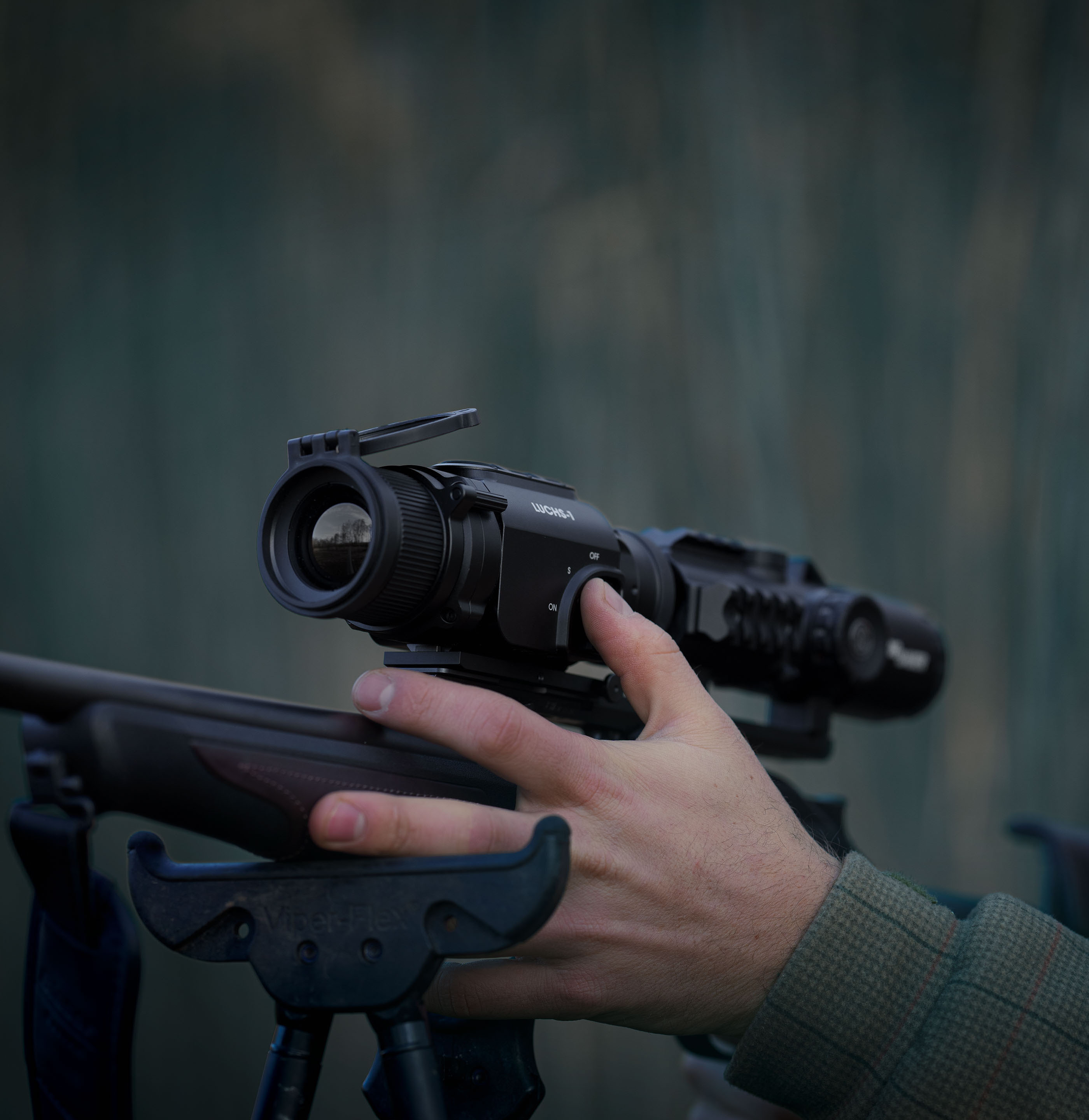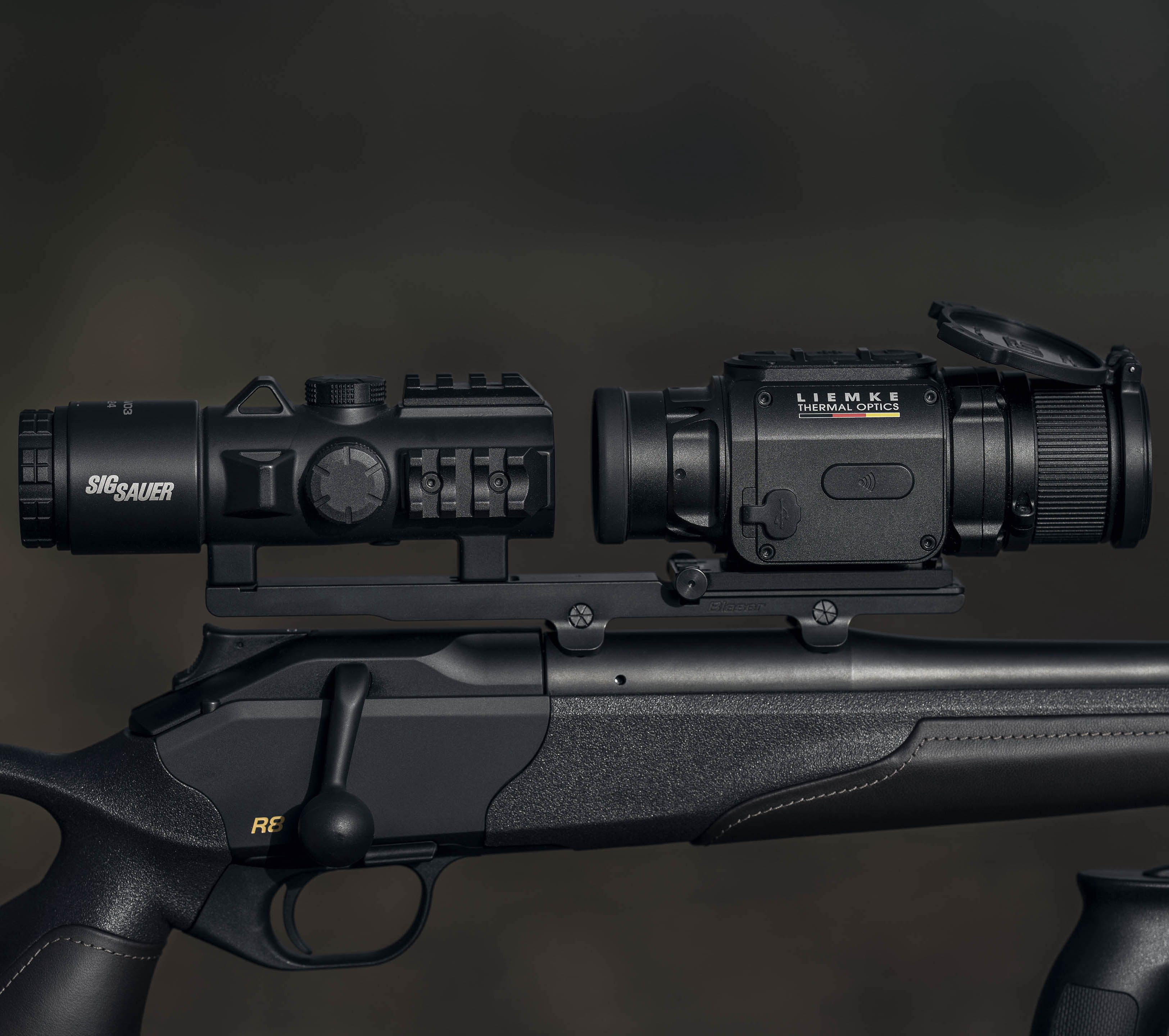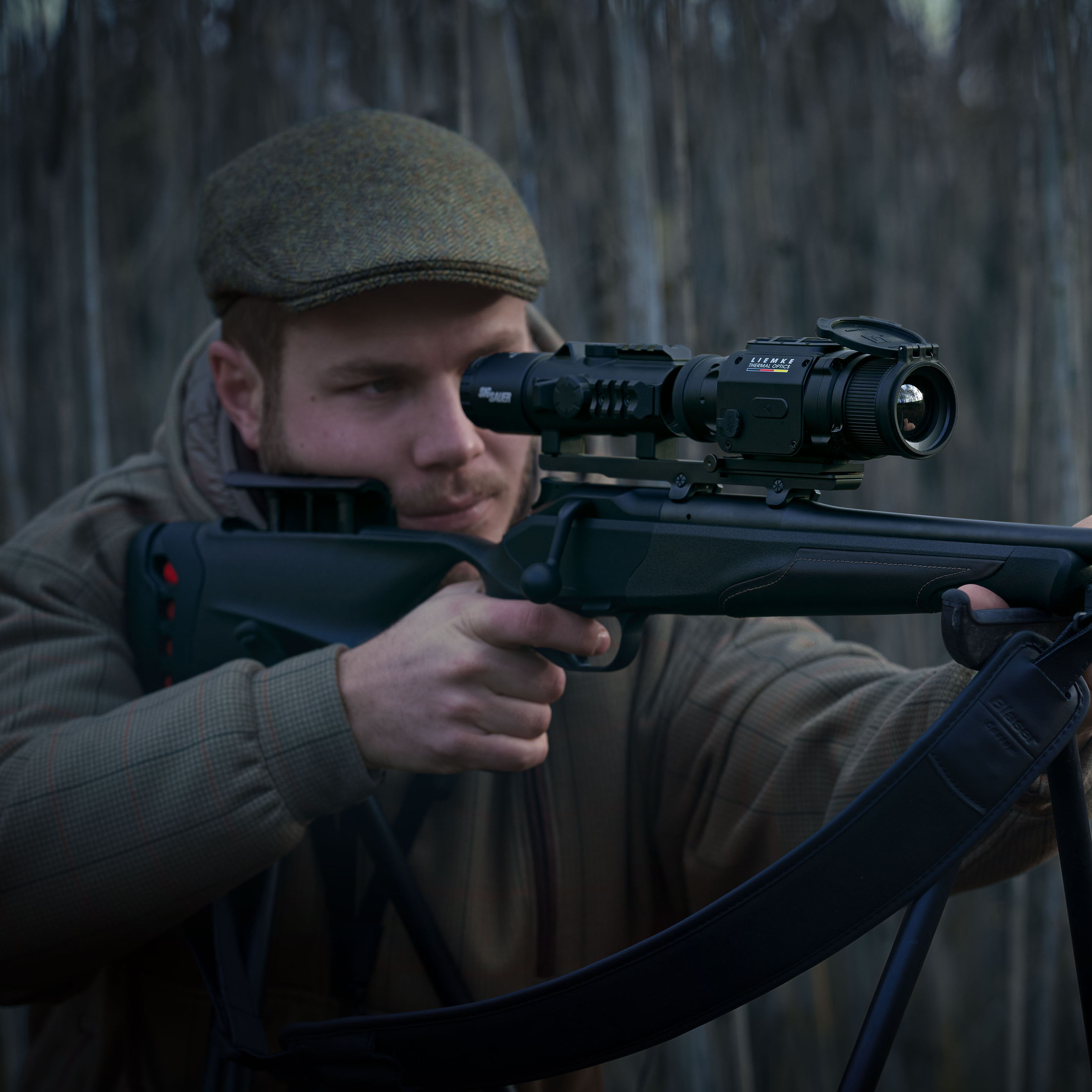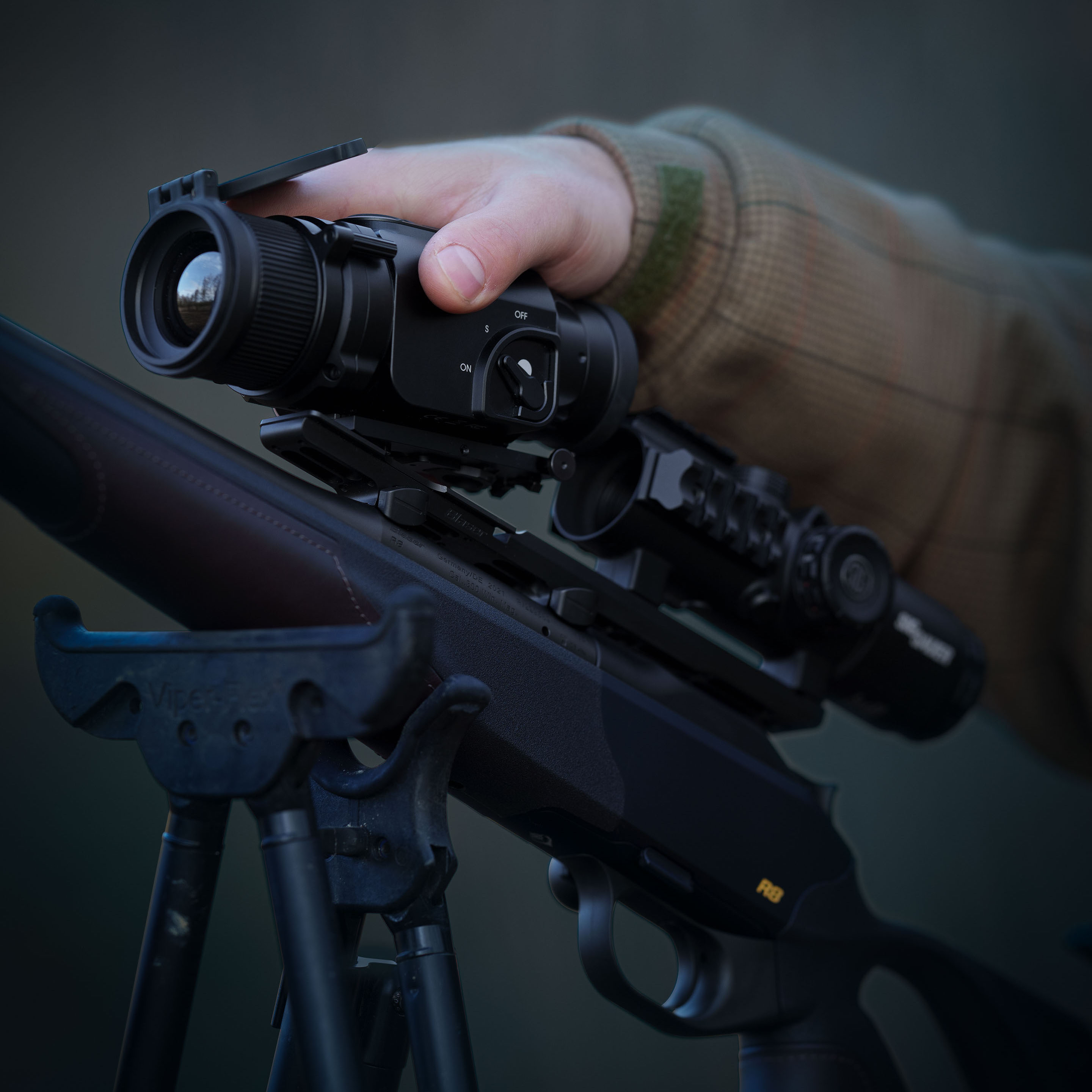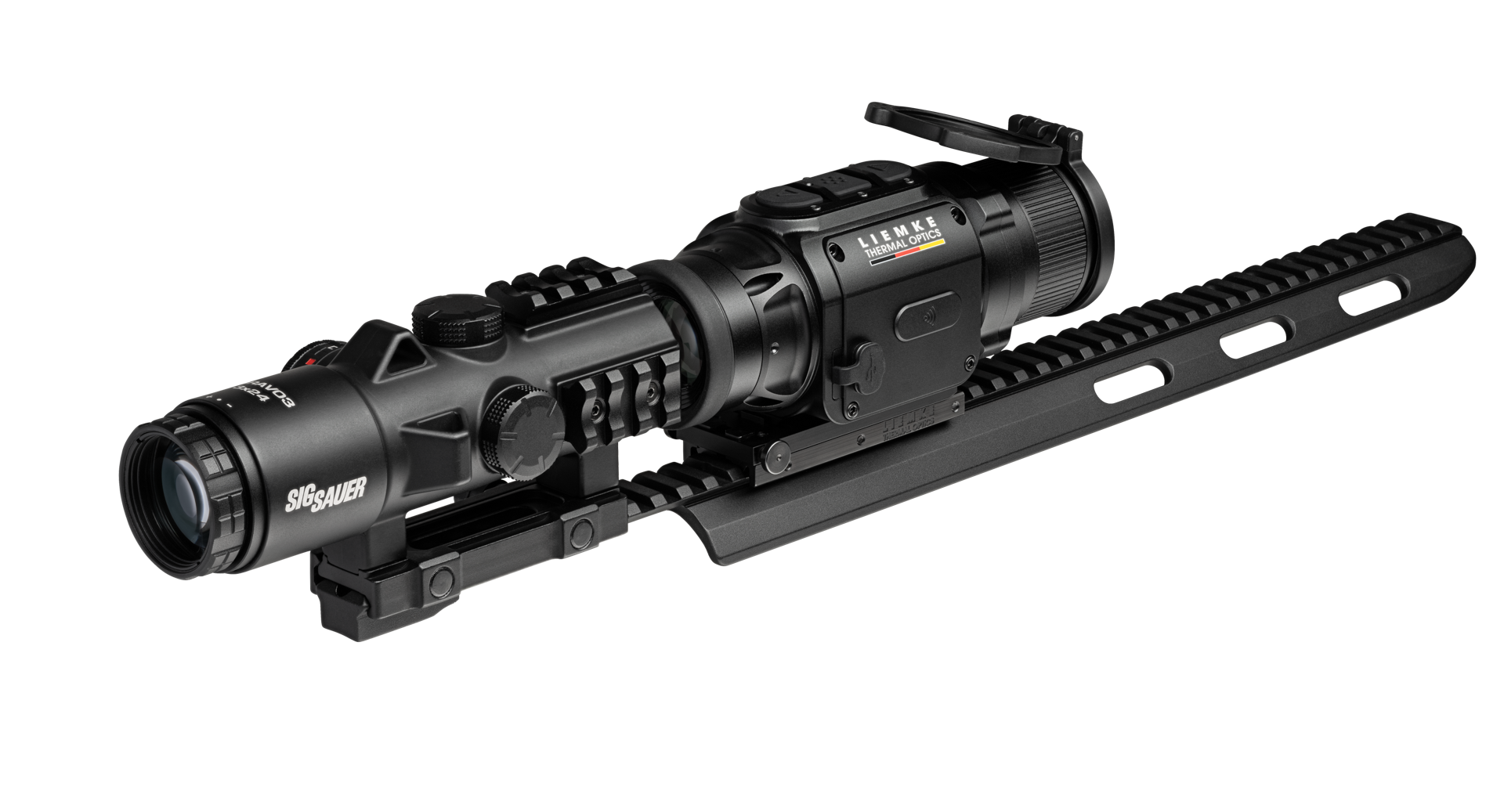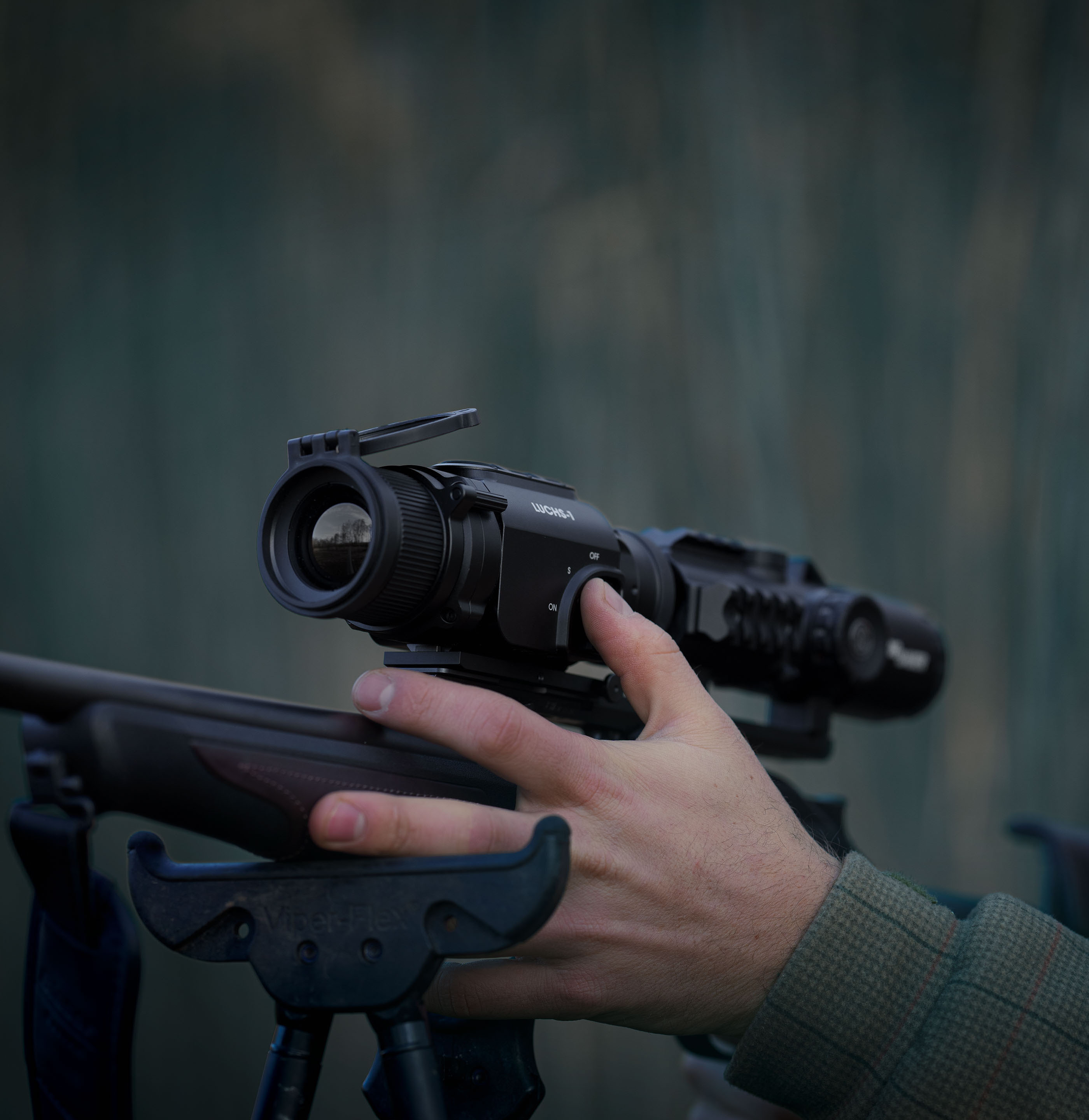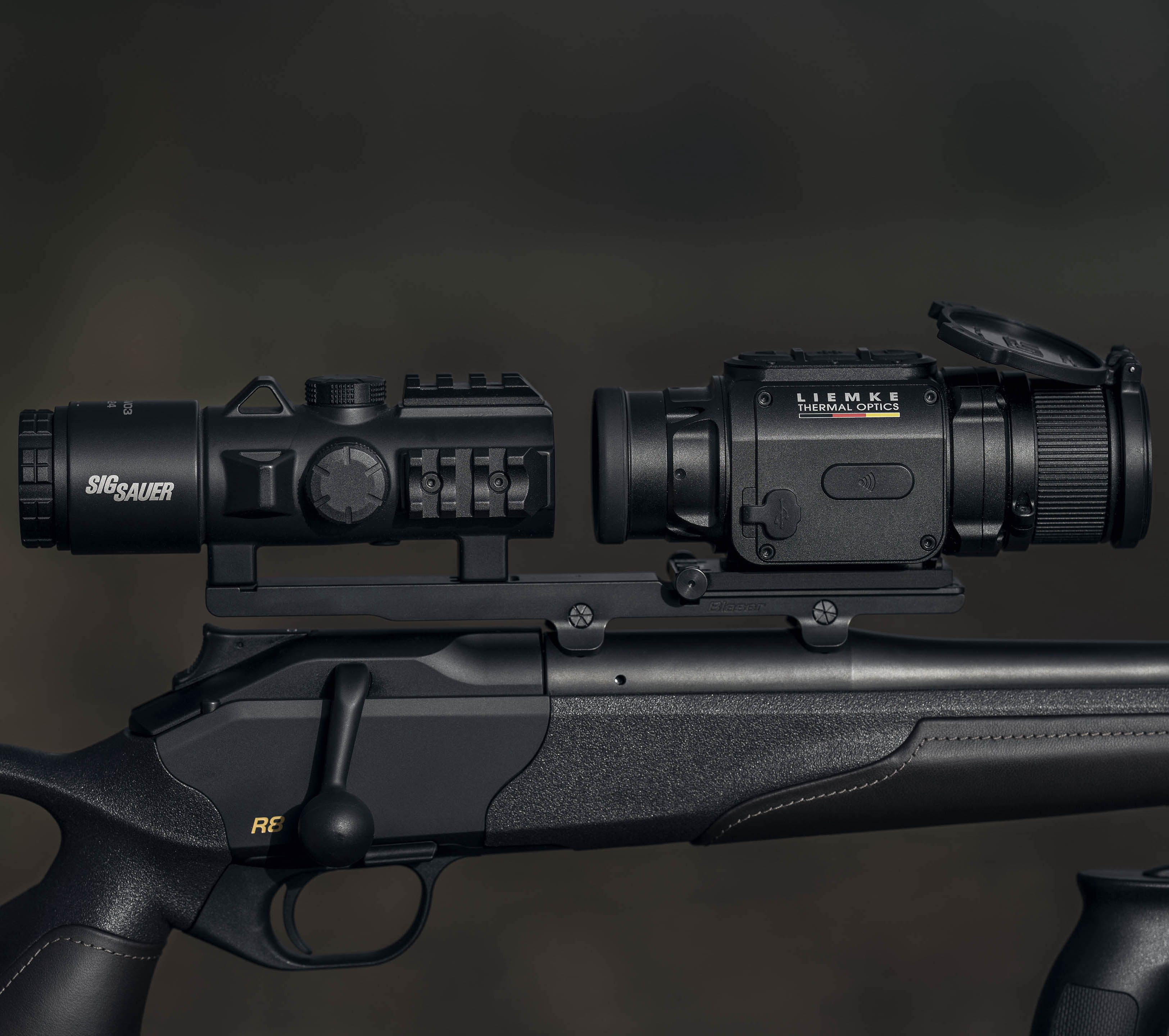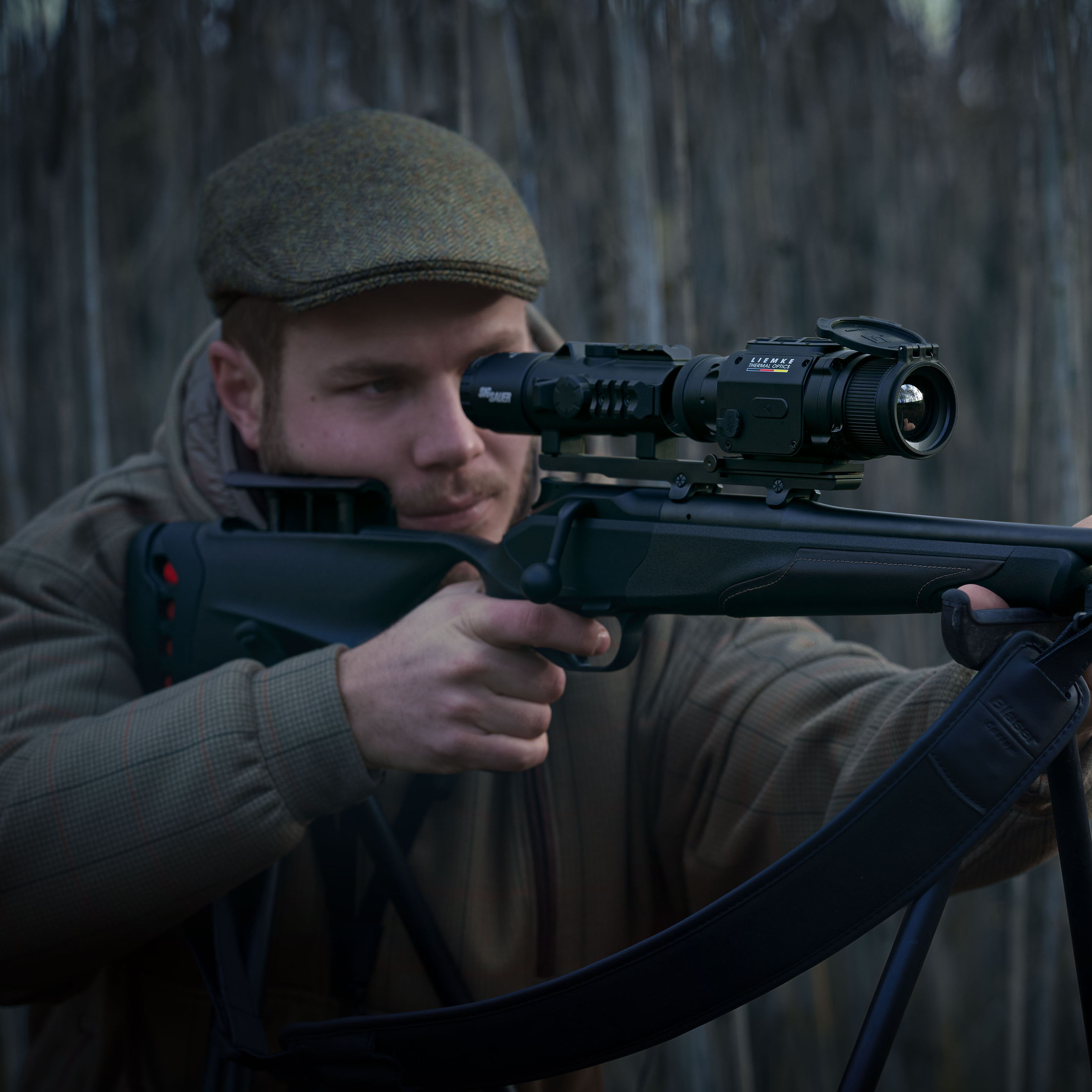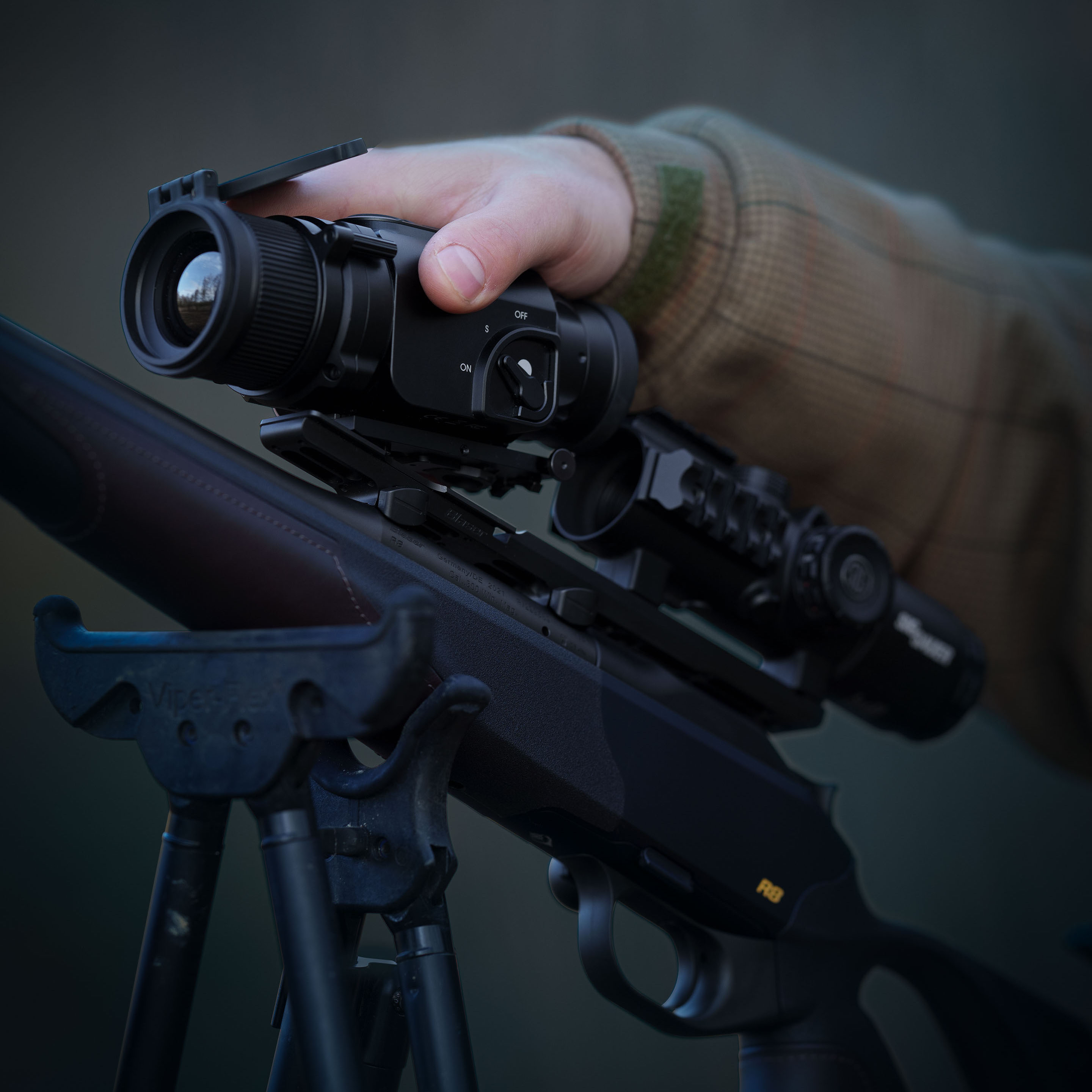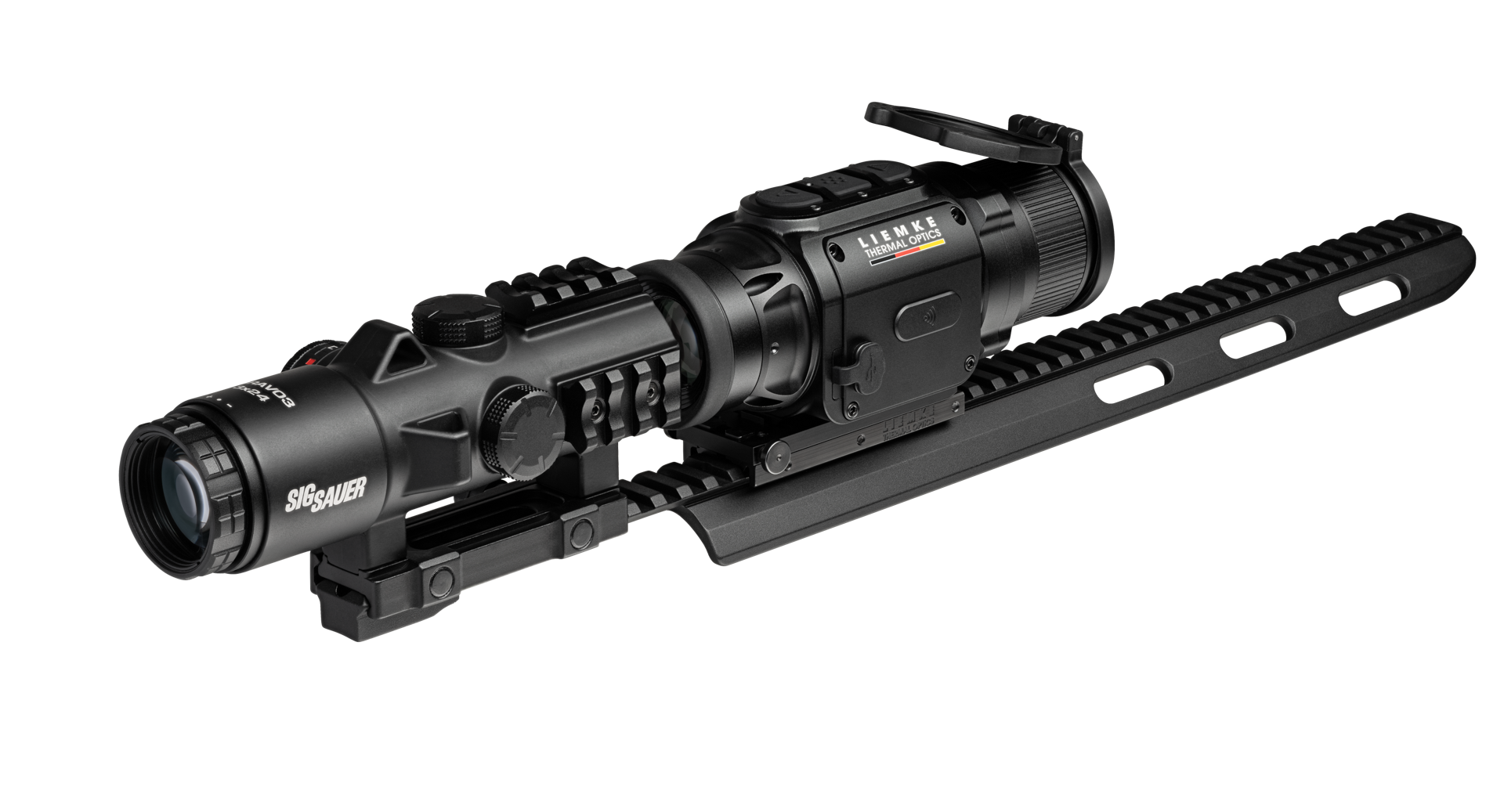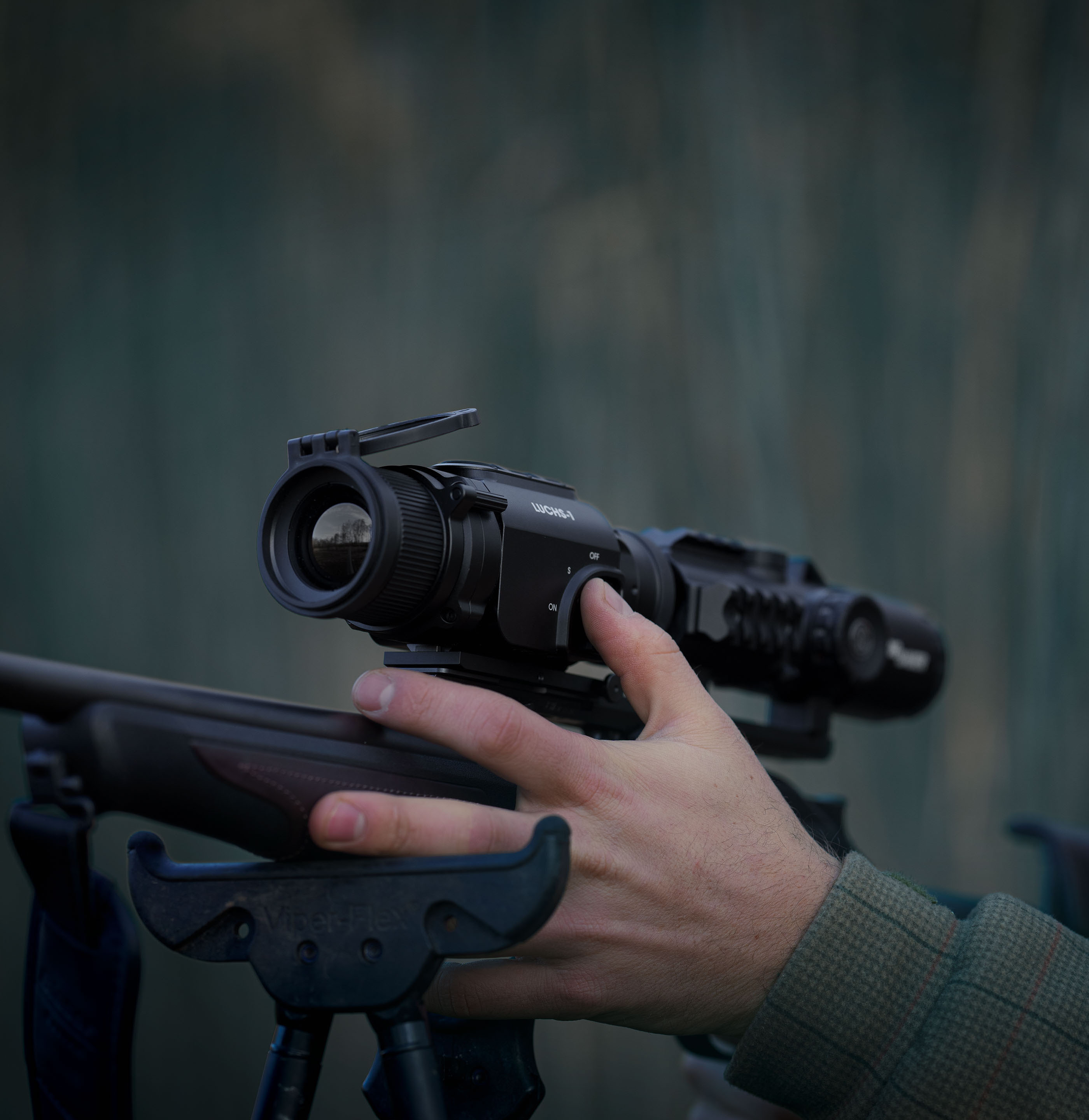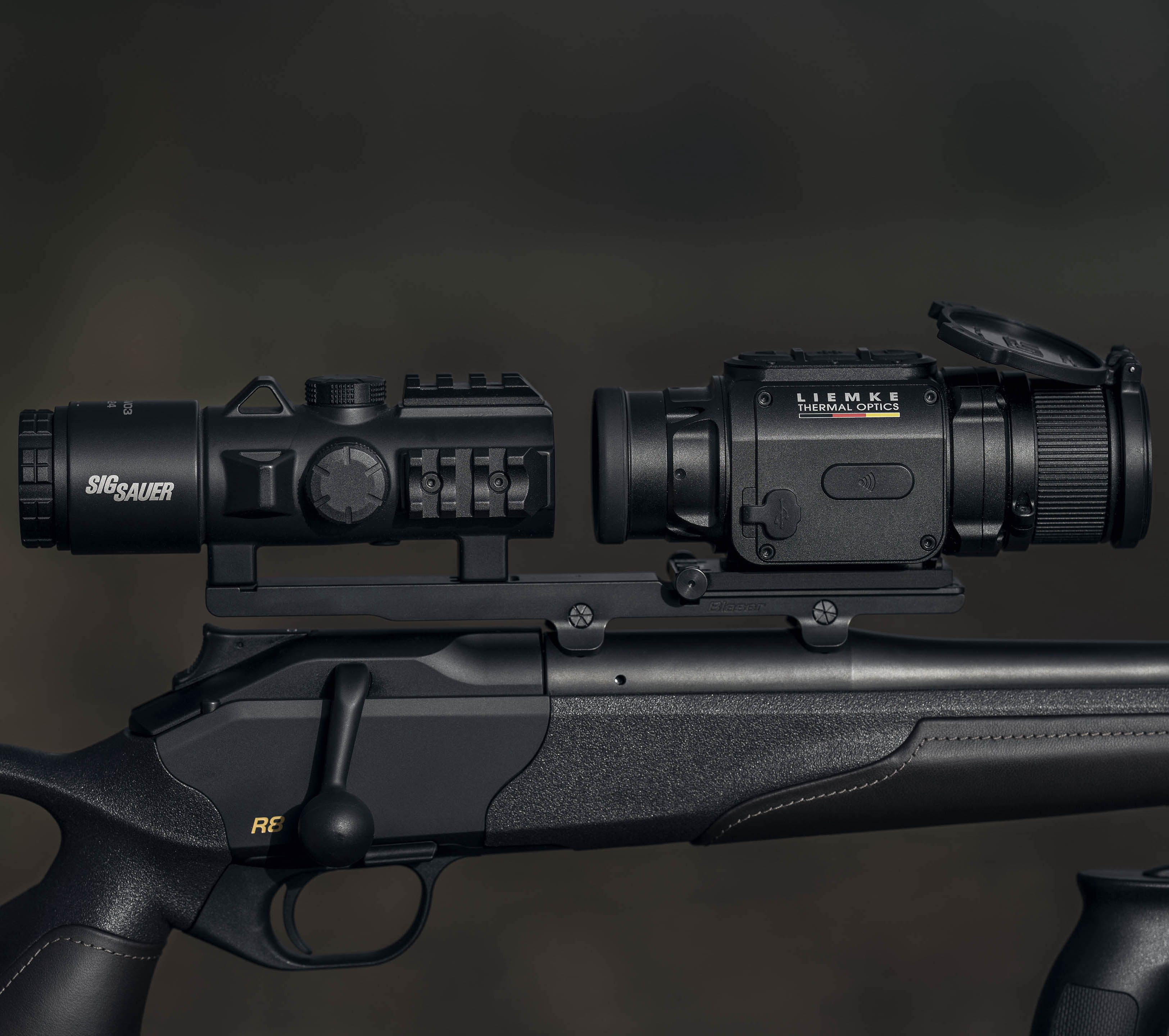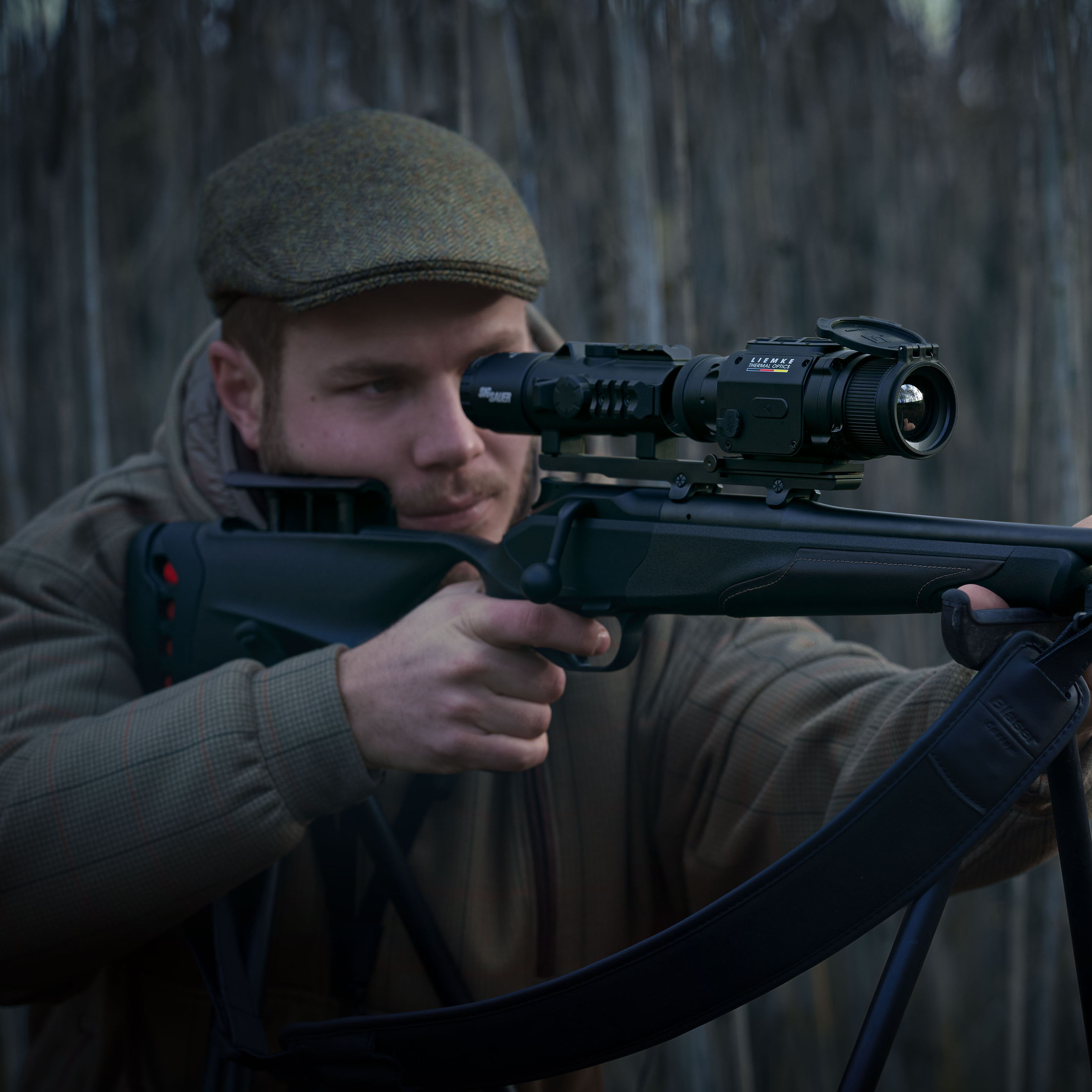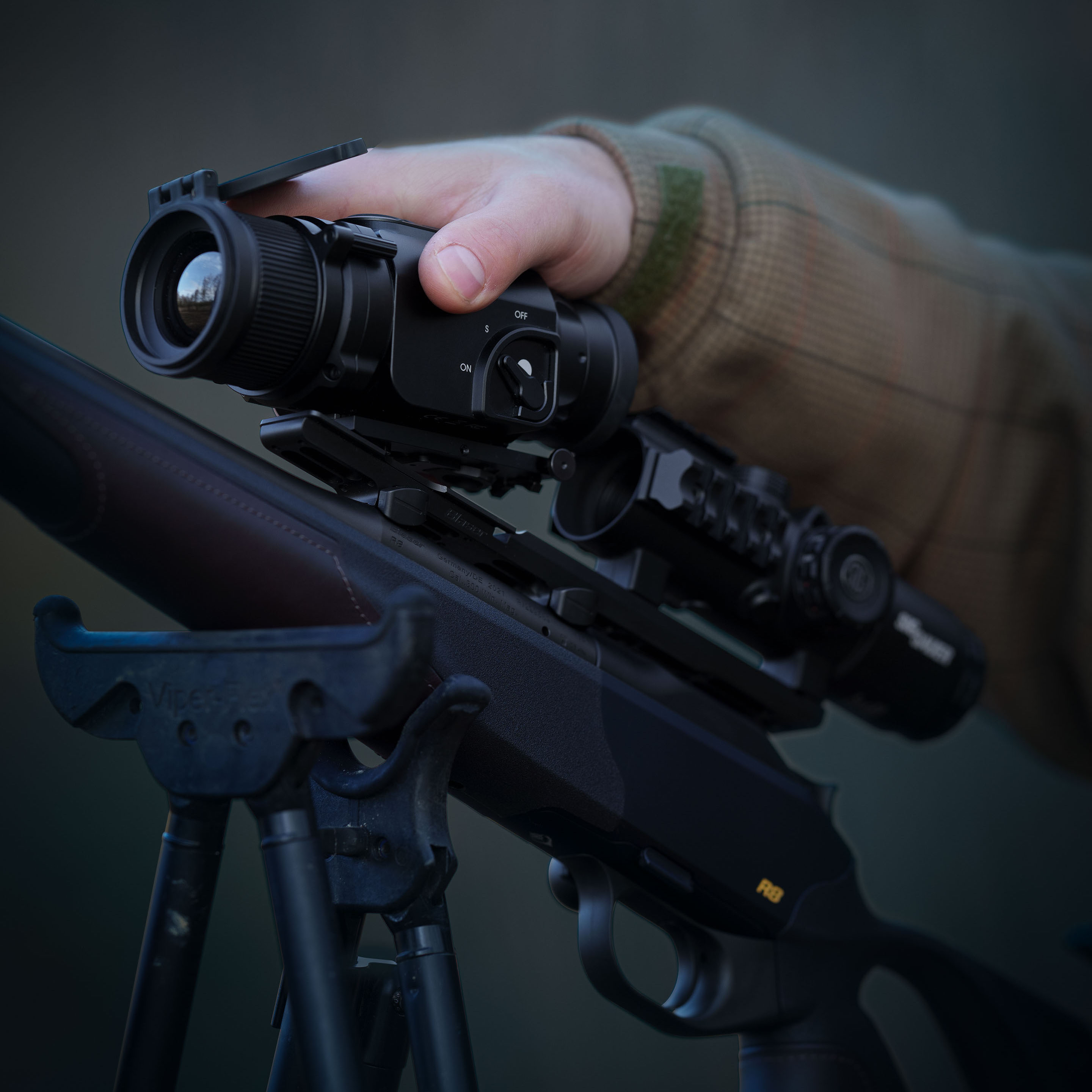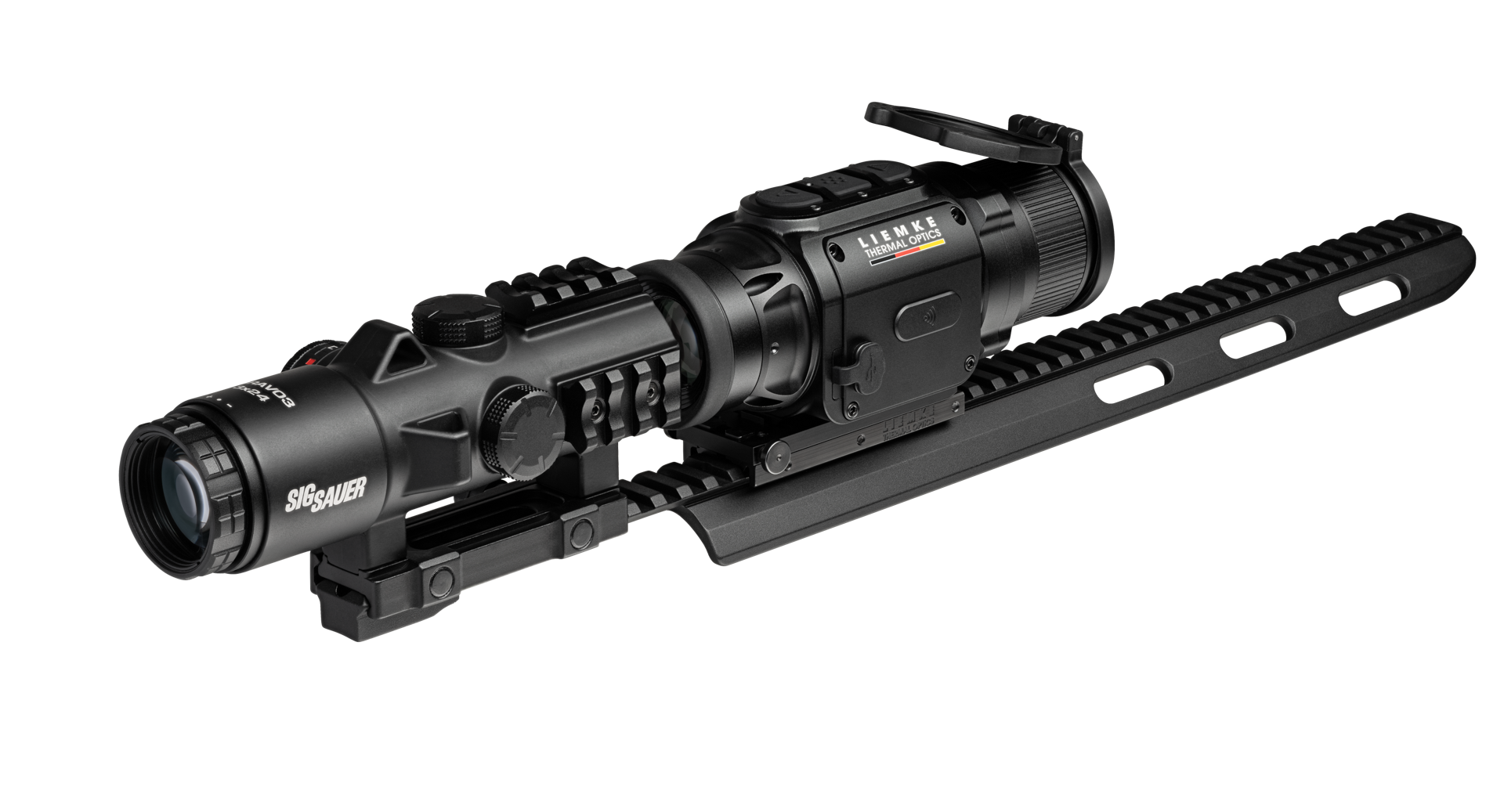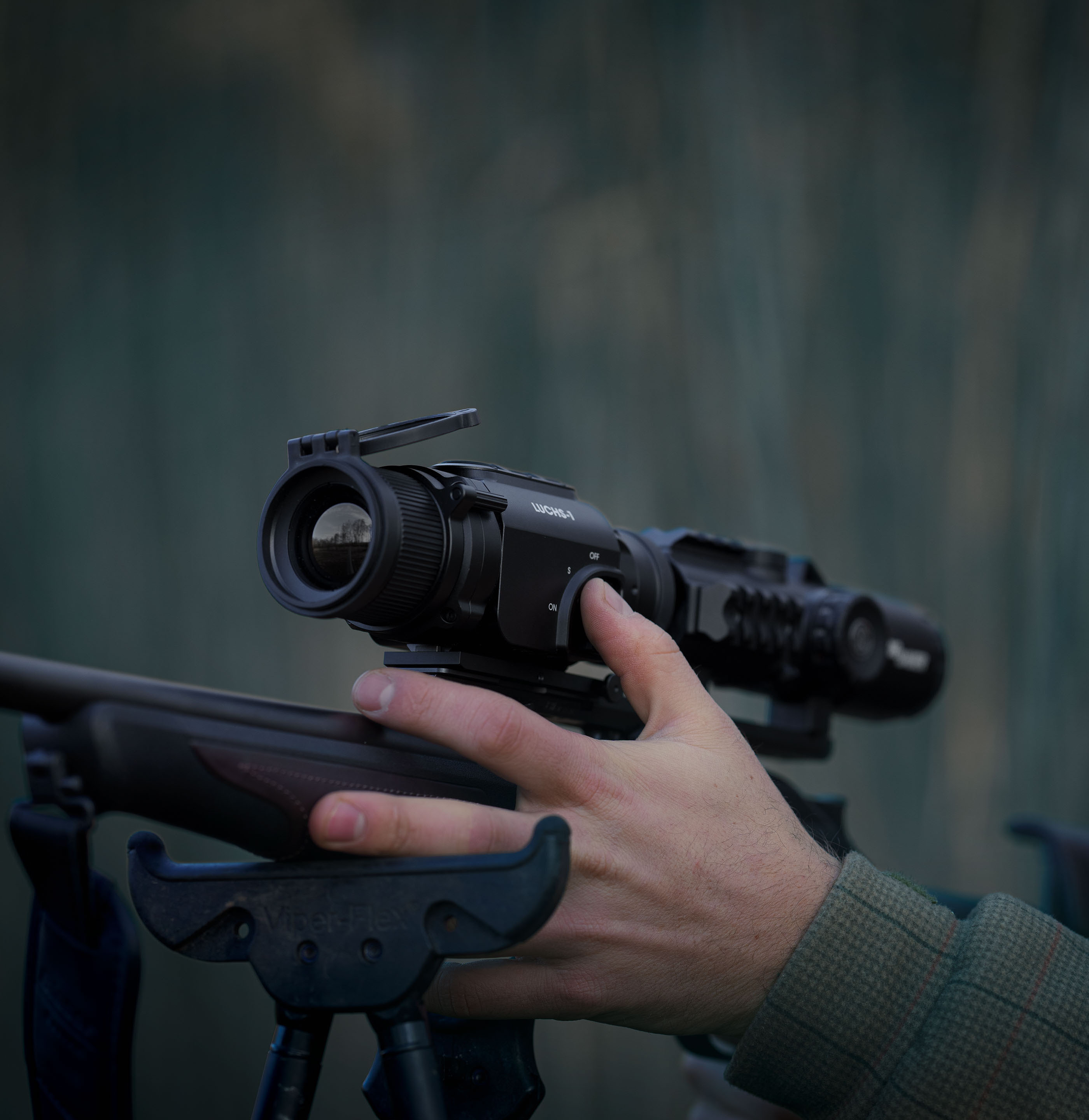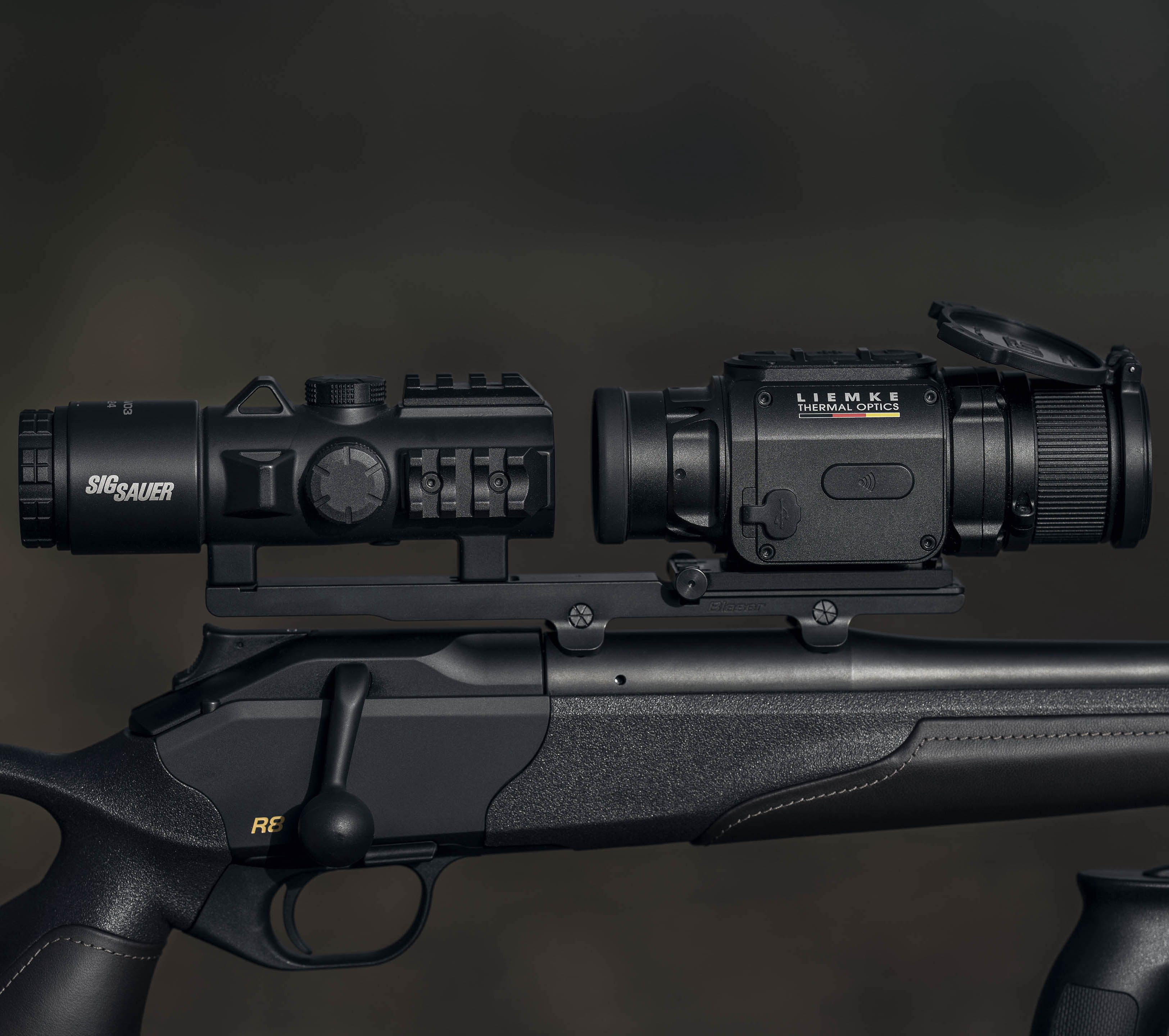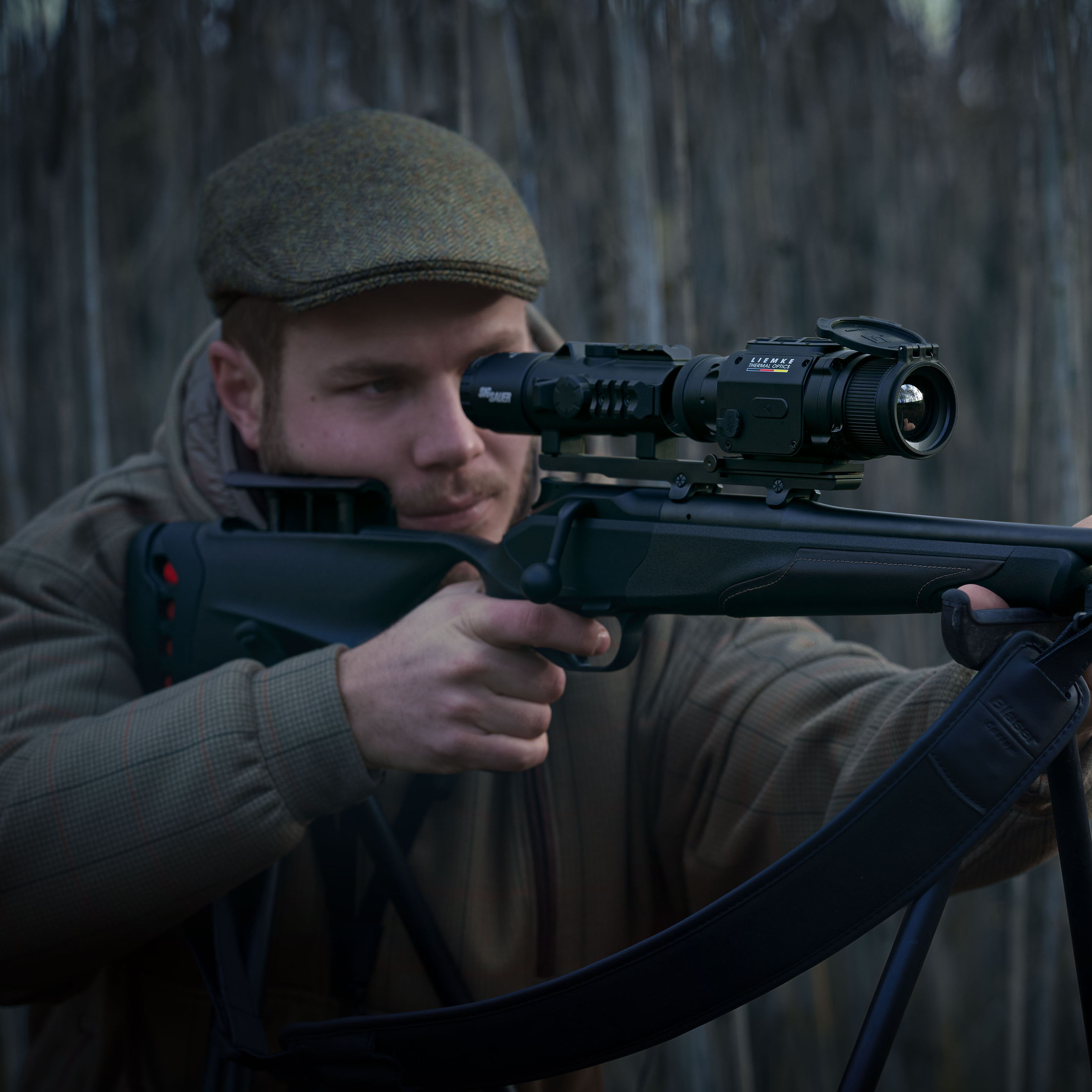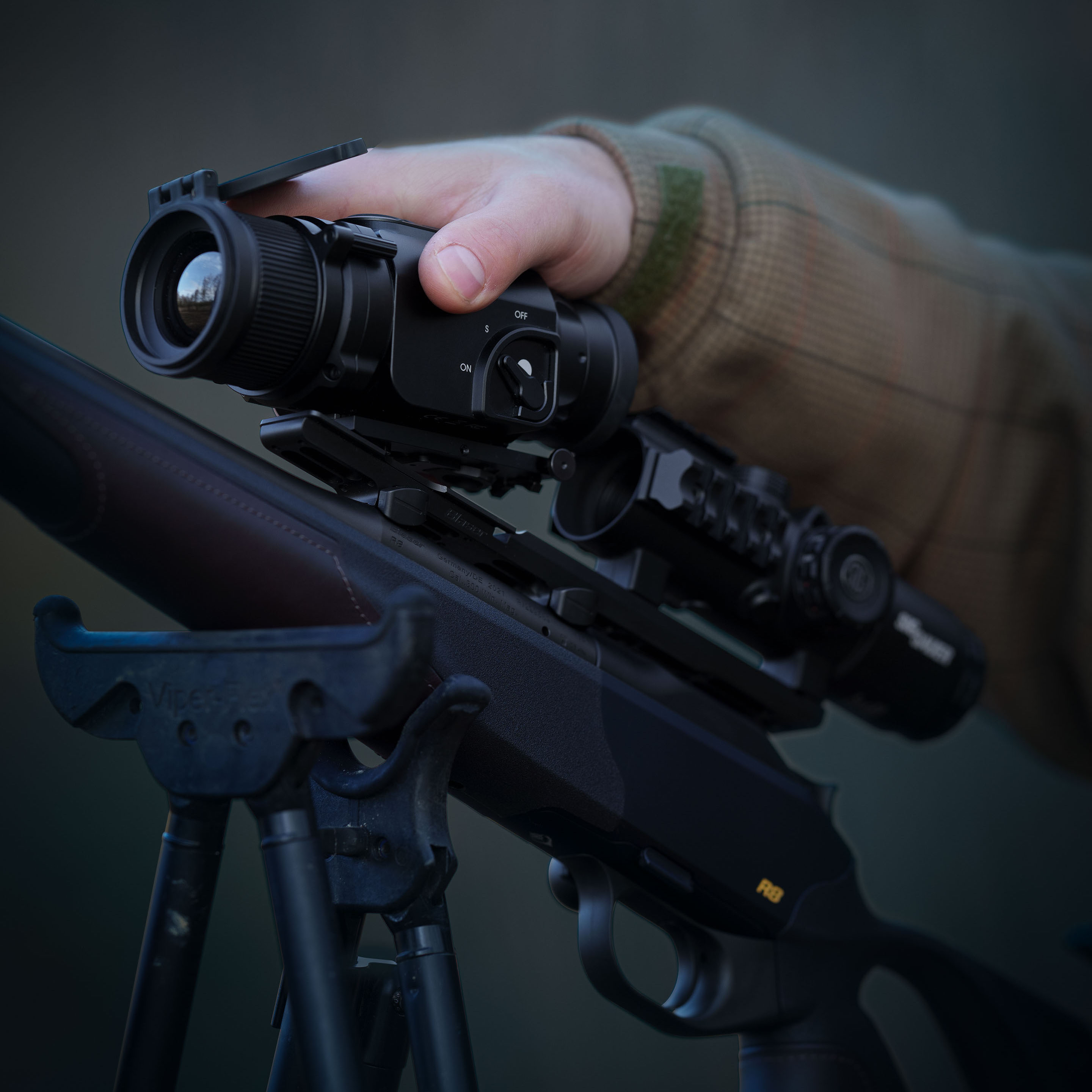 This article is exclusively available through our specialized trade partners.

* LUCHS-1 Thermal Device not included in scope of delivery!
The Ultimate Thermal Imaging Solution For Hunting At Night.
Experience a new compact class for hunting at night: The powerful LIEMKE thermal imaging clip-on device plus the unbeatable and compact SIG SAUER BRAVO3 riflescope and robust LIEMKE Multirail mounting rail. The result is an absolutely repeatable and extremely convenient complete set for night hunting.
Available now at specialist dealers.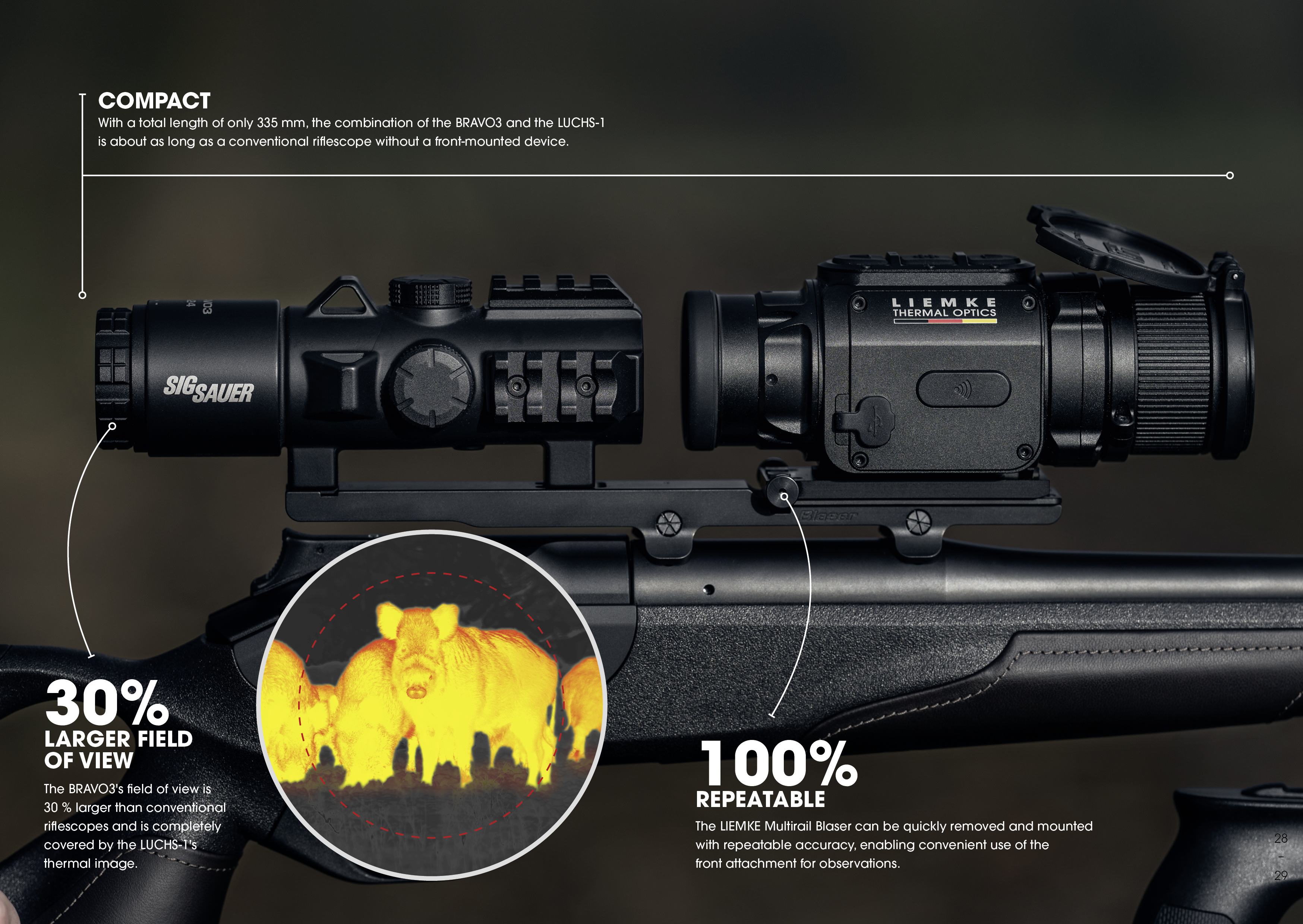 The Multirail Thermal Image Set: Compact. Fast. Repeatable.
Large field of view
With its large field of view of 17.6 m/100 m, the SIG SAUER BRAVO3 riflescope delivers impressive results while hunting at night.
Extremely handy and easy to use
Measuring at about 335 mm, this SIG SAUER BRAVO3 and LIEMKE combination is about as long as a conventional riflescope without a clip-on device. The operating elements of the thermal imaging attachment are particularly easy to reach while aiming due to its especially short overall length.
Immediately ready for use
Easy and 100% repeatable removal and re-attachment thanks to the practical quick connector.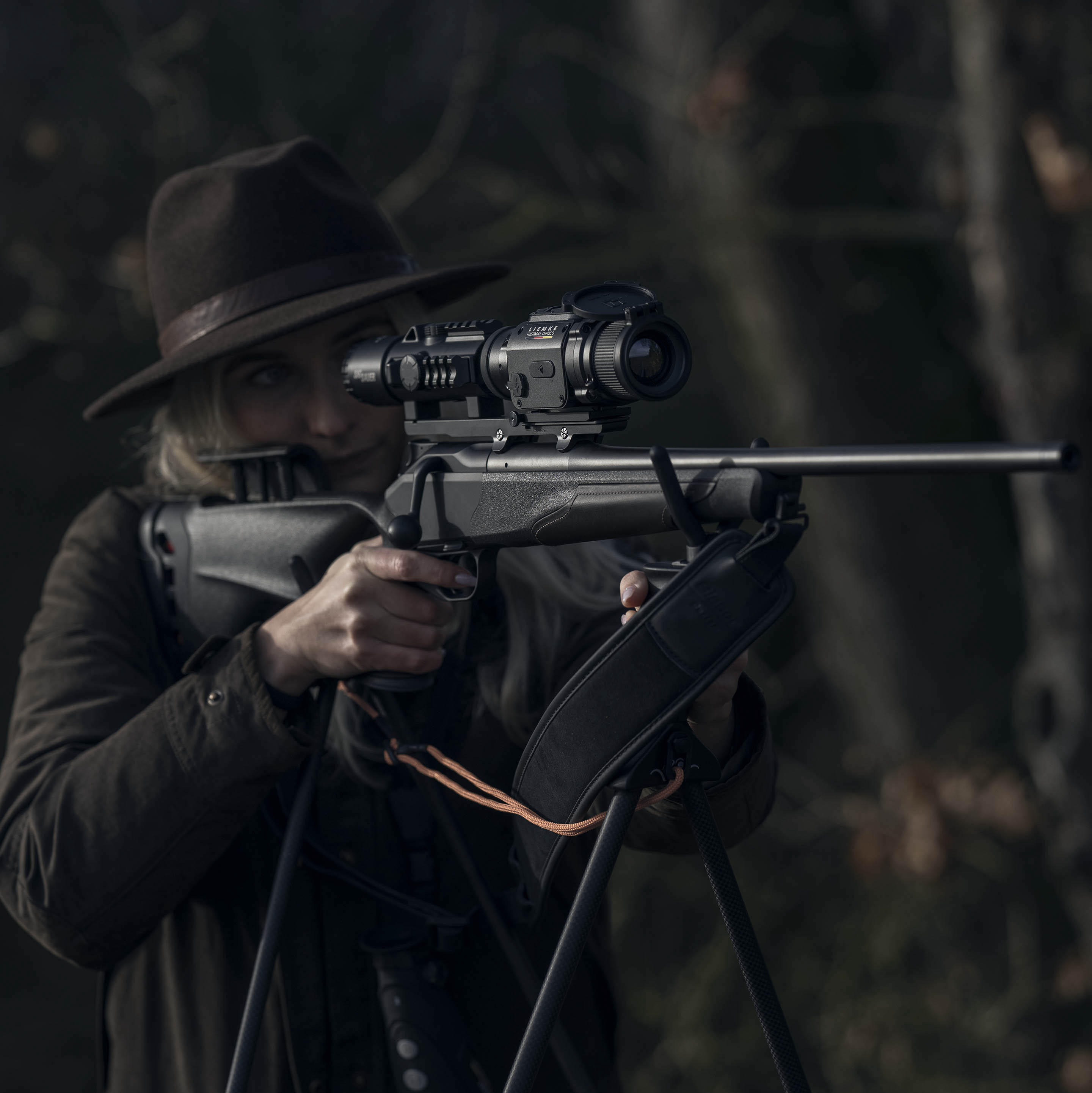 Easily combinable with the MERLIN 35, 42 or LUCHS-1 & LUCHS-2
Using a quick connector, the mounting rail and riflescope can be easily combined with the LIEMKE MERLIN thermal clip-on devices (models 35, 42) or the LUCHS-1/LUCHS-2.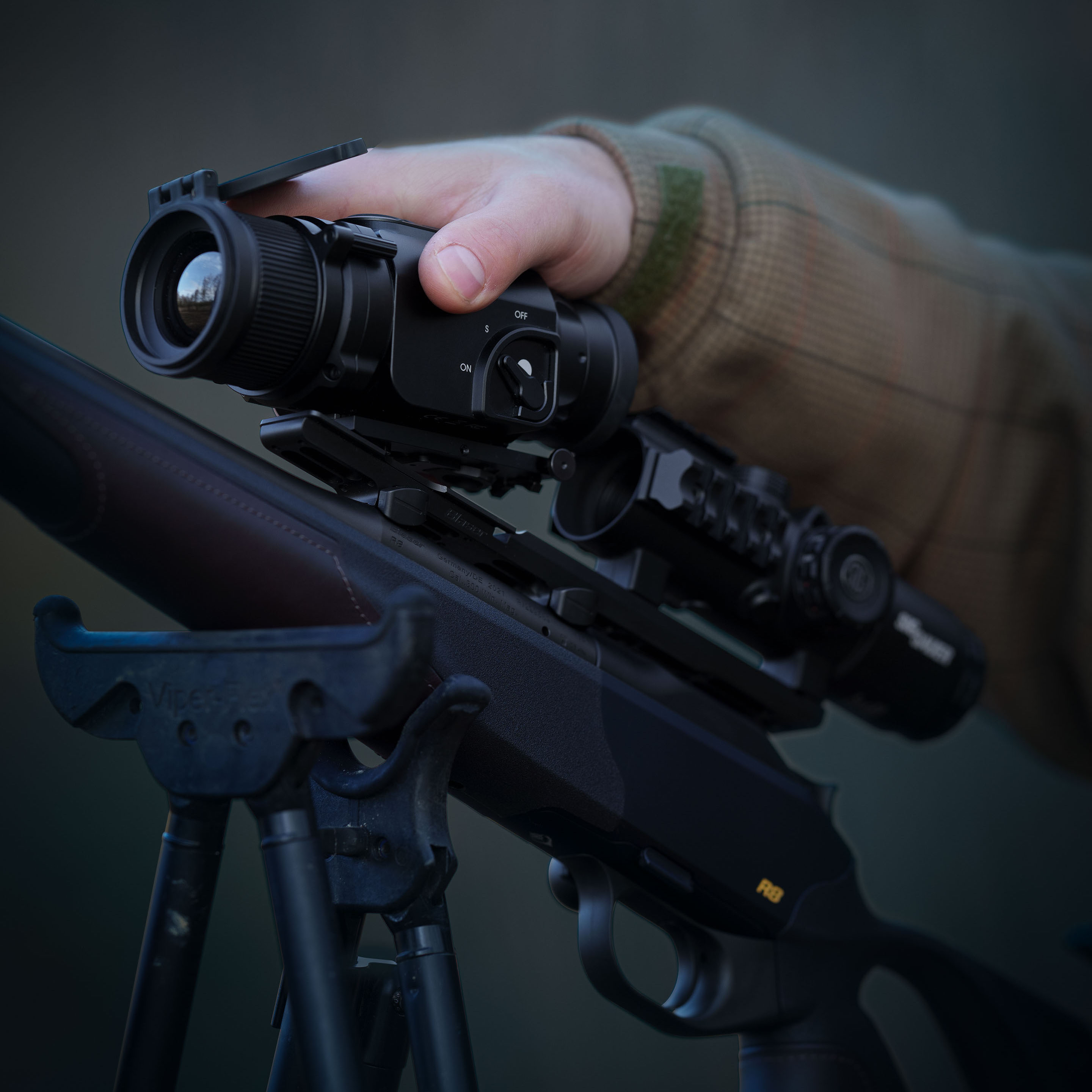 Perfect night vision with the LUCHS-1 and LUCHS-2 thermal imaging clip-on device
When used together with the LIEMKE LUCHS-1/LUCHS-2, this compact combination opens up completely new perspectives. That is because the field of view of the SIG SAUER BRAVO3 is more than 30 % larger than that of conventional riflescopes, which is completely filled by the thermal image at an overall length of only 335 mm. This is where our latest "Made in Germany" thermal imaging optics fully demonstrate its strengths: The high-resolution Vox sensor provides a high-contrast and detailed image. The large field of view of 22 m / 100 m, as well as the range of 1,750 m, ensure the best views at night in forests and fields.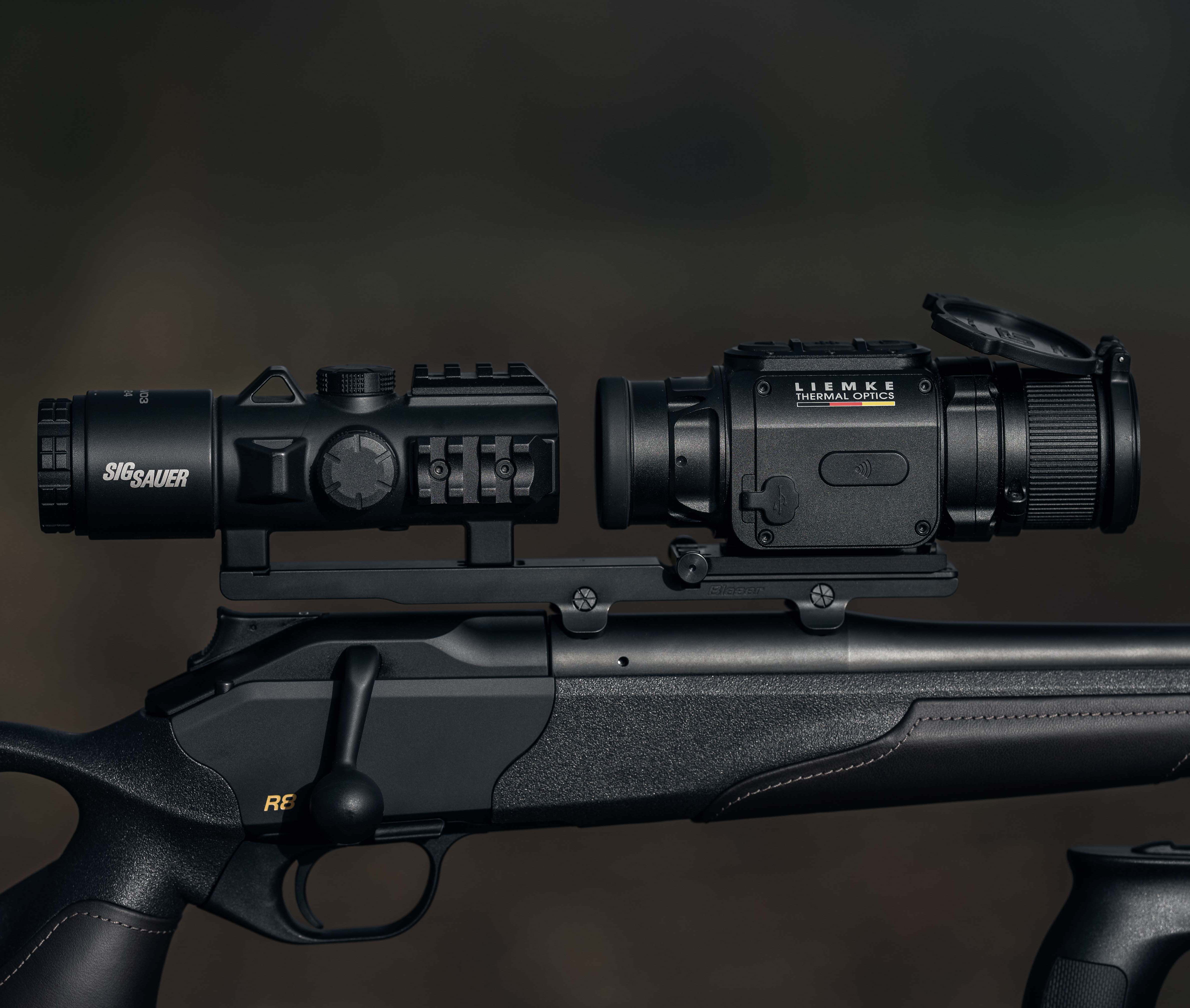 Riflescope SIG SAUER BRAVO3
Designed for the toughest military operations, the SIG SAUER BRAVO3 riflescope not only impresses with its compact size, but also offers a full 40% more field of view than conventional riflescopes.
Technical specifications:
3x zoom
5.56 – 7.62 Horseshoe Dot illuminated reticle
Ocular with +/- 2 diopter correction
MegaView for a 40% wider field of view
Low dispersion (LD) lenses provide optical clarity in any situation
LensShield: Oleophobe coating
SpectraCoat™: Anti-reflex coatings on the lenses
LensArmor™: abrasion-resistant coatings
Waterproof (IPX-7) and anti-fogging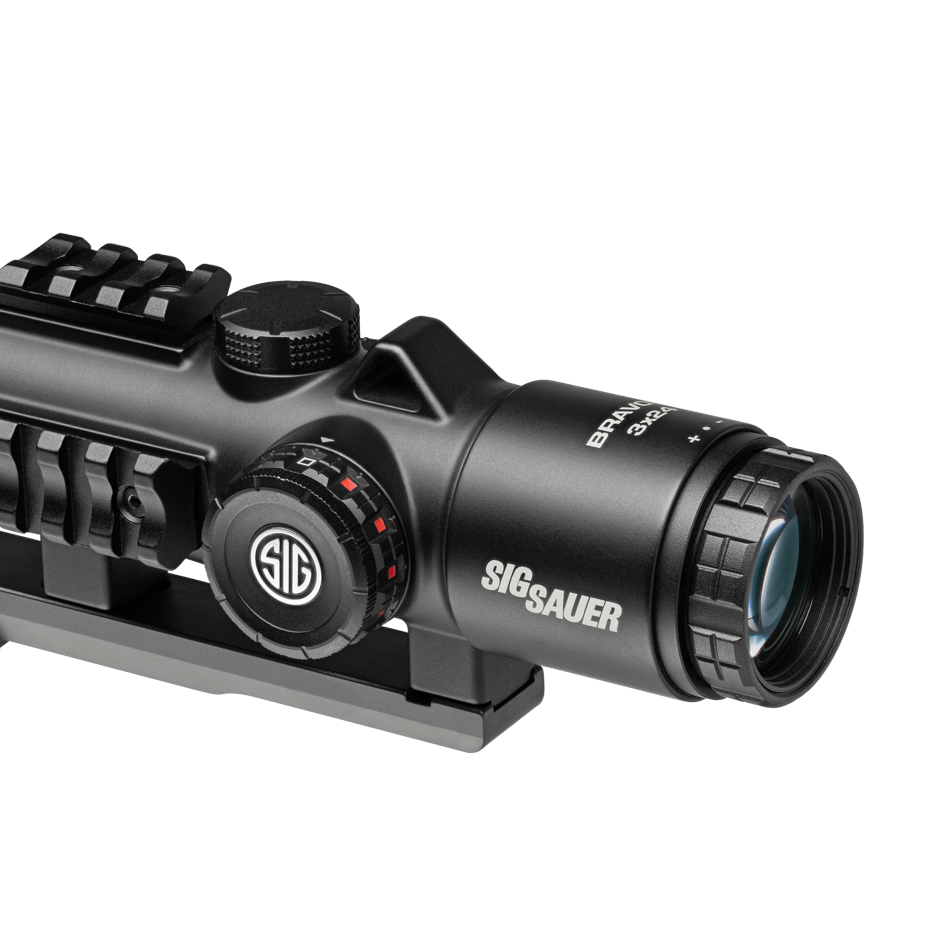 Multirail Blaser
When combined with the rifle, scope and thermal imaging attachment, the Multirial Picatinny mount provides absolute precision and reliability.